When you travel across the seven seas, you sometimes travel through seasons. Rain, snow or sun, The Moncey will NEVER fail you! But wait, let me just tell you that this luggage is NOT waterproof; it is however, rainproof. So, if you're planning on dipping your luggage into the ocean, I can't promise that your belongings will survive. However, if you for some reason have to walk in the rain for a while, I'm fairly certain your belongings will remain secure.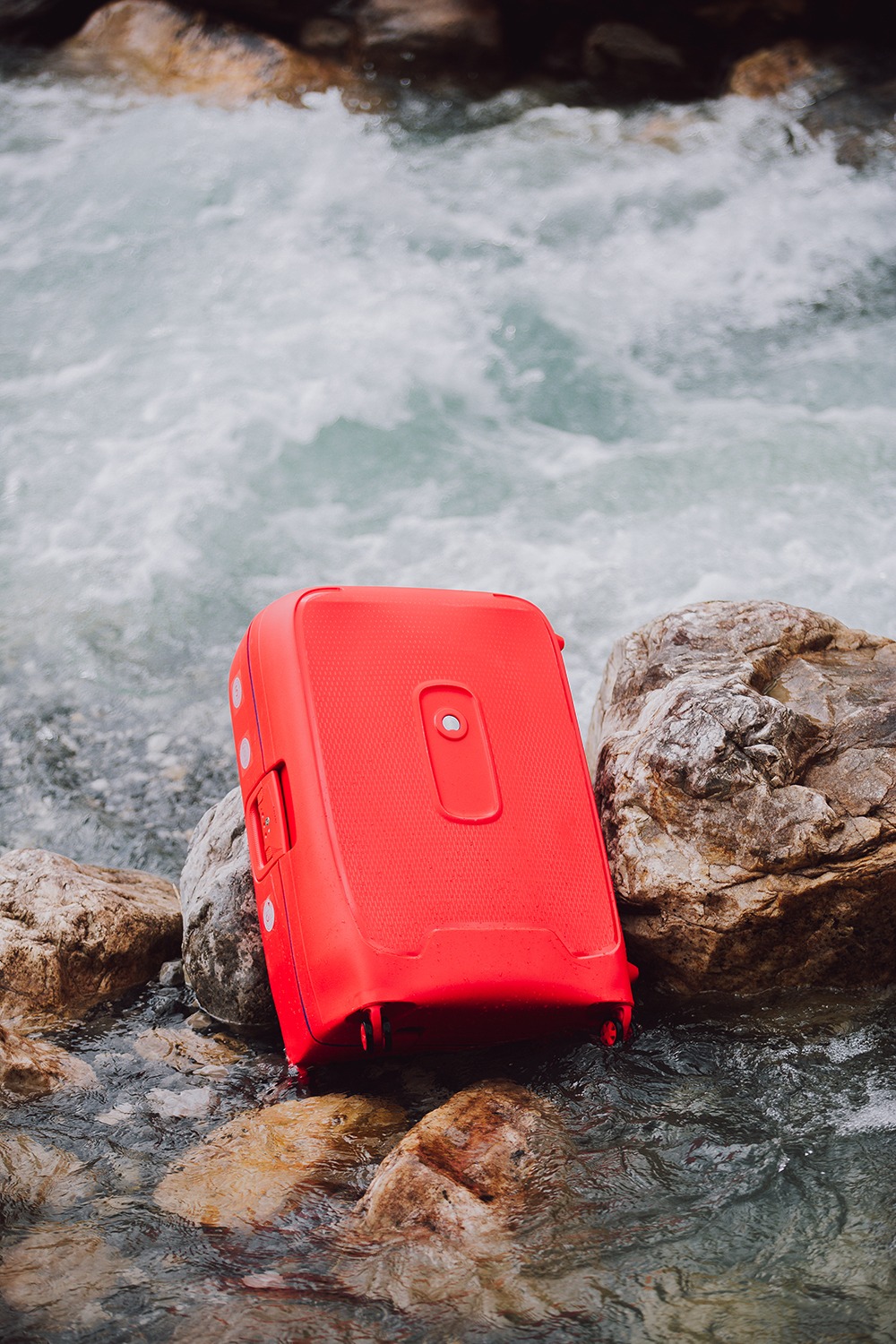 The Moncey is that friend that you can literally ALWAYS count on and here's how:
The Moncey is not your regular hard case + plastic luggage; it is a whole lot more! Delsey has created the Moncey using an advanced (possibly patented) technology, unique material and an incredibly intelligent process to create its' mold. The way in which the Moncey is built, makes it a whole lot stronger than your average hard case luggage. And let's face it, our luggage goes through a great deal of rough handling during travel, but with the Moncey, you needn't worry! So, whether it's pouring or hailing, whether the road is smooth or the handling is rough, the Moncey is strong enough to survive through it all. Your belongings? No reason to fret, the Moncey will protect them as a lioness protects her cubs.
Alright, so now that I've shared my lion analogy with you, let me tell you a little more about the Moncey. Here are a few key features:
Moncey's Got Moves
Travel is extremely enjoyable, but becomes even more enjoyable when your luggage is easy to maneuver. The Moncey has 4 double wheels that make maneuvering your luggage easy, quiet and smooth. In addition, this allows for balanced weight distribution.
Beautiful Inside & Out
Not only does the Moncey ooze beauty from the outside, it's quite the same from the inside. The Moncey is fully lined in 100% polyester 150D, multiple pocket spaces for organized packing, adjustable fastening straps and a removable partition with flat pockets for secure packing, and a waterproof pocket. Truly a well though out design.
Moncey Fits All
Small, medium and large, the Moncey is available in the right size for you.
Cabin Size: 69x47x28
Cabin Size II: 55x40x20
Medium Check-in: 55x35x25
Large Check-in: 76x52x30
Large Check-in II: 82x53x33
Moncey's Got Funk
Feeling colourful? Are you the type of person who likes 'unique'? Do you like spotting your luggage from afar? Well, I've got good news! The Moncey is your perfect travel mate as it comes in a wide range of colours. So, whether you're style conscious or want your luggage to stand apart from the crown, the Moncey has you covered.
3x The Security
Monetary value or not, we all end up travelling with some form of sentimental value. Whether it's a boyfriend's sweater or that special silk scarf, it's nice to know that you've got extra security. Aside from the industry standard TSA approved locks, the Moncey comes with three additional locks to close your bag shut. Therefore, you no longer have to worry about broken or ripped open zips.
So my beautiful peeps, I believe I've given you all the possible reasons to make the Moncey your next (and FOREVER) travel mate.
xoxo,
The Real Juhi Sharma
Disclosure: I have participated in a paid partnership with Delsey. Opinions in this post are my own.