Luxuria. If you're not sure what this Latin term means, don't worry about finding it in the dictionary or searching for it on Google. All you have to do is this – grab your laptop or any device connected to the Internet, book yourself a flight to Dubai and pay a visit to the Burj Al Arab. What you witness and experience there will very beautifully and precisely define the term luxuria.
If that isn't something you can do, the literal translation of this Latin term is luxury. The Burj Al Arab is luxury at it's BEST! Every inch, corner and every nook and cranny of this hotel oozed luxury. My visit to this MEGA luxurious hotel was like none other! It was definitely one of a kind!
One early evening in Dubai, Akshay and I decided to dress up and grab fancy drinks at the very fancy Burj Al Arab. So, we booked ourselves an Uber and were on our way. Something we weren't aware of was that, you couldn't just enter the Burj Al Arab's premises whenever we pleased. Upon our arrival, the security guard informed us that a reservation in advance (along with a partial payment in advance) is required to enter the premises. Our excitement levels dropped and we headed back towards our hotel. On our Uber ride back, we got on the web to book a time slot in for the next day, only to learn that there were NO times available for the next 3 days! (Yes, the reservations are time slot specific and if you're more than 15 minutes late, you loose your reservation). Thankfully, we had 4 days left in Dubai and were able to squeeze in a booking on our last night in Dubai.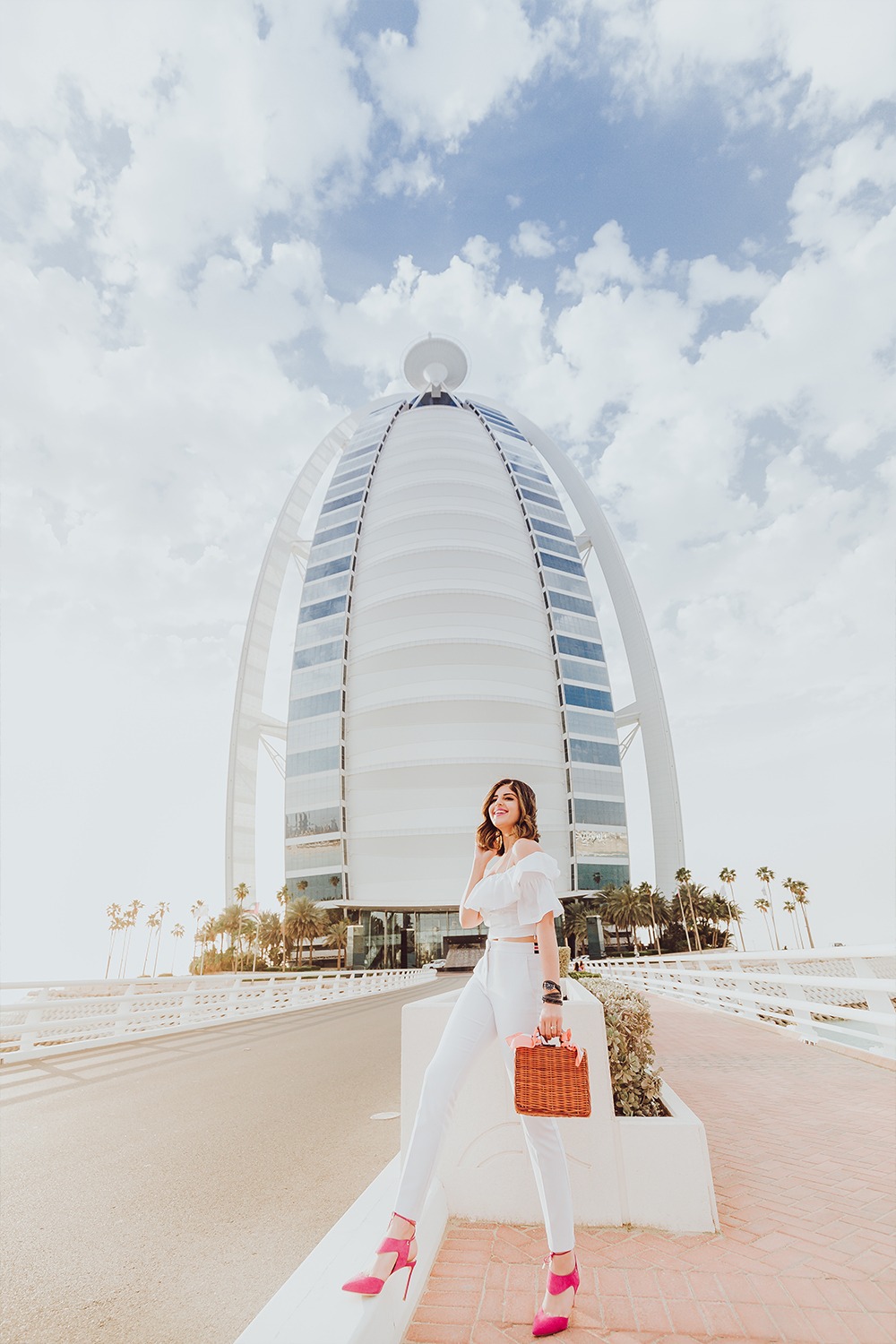 Moral of my long story – plan and reserve ahead if you wish to experience the Burj Al Arab. All in All, the experience Akshay and I had the Burj Al Arab was like none other! There aren't adequate adjectives for me to precisely describe how we felt and what we experienced. All I can say is that, it was entirely worth it! I DEFINITELY recommend dedicating a small sum of your budget towards this experience; I promise you'll LOVE it! It's definitely a very very very VERY bougie place; a place I'd normally never find myself at, but this was worth the exception.
I am extremely grateful to have had this experience and it's one I will NEVER forget.
P.S. Be sure to indulge yourself in the extravagant drinks menu the Burk Al Arab offers. Their cocktails + mocktails are divided into 'The Old Dubai' and 'The New Dubai' and it's respective drinks list. I can't seem to remember what I ordered when I was there, however it was BEYOND delicious and oh so spectacularly presented.
xoxo,
The Real Juhi Sharm