If there's one thing I could incorporate more of in my life, it would be travel. When it comes to travel, I have a mind of a curious child and the obsession of a lover. I have this constant need to know where I'm jetting off to next, even if it's while I'm on vacation and haven't returned home yet. And each time I have the opportunity to travel, I realize more and more, that there are so many places in the world I need to explore; so many cultures I need to familiarize myself with, so many cuisines (and flavours) I need to acquaint my palette with, so many languages I need my ears to dance to, and so many historical monuments I need to educate myself about.
I wouldn't dare say I'm well-traveled however, I think it's safe to say that I've seen a fair bit; and more the bits I've seen, I've learned that, having the right luggage certainly sets your travel off on the right foot! I know it doesn't seem like much, but believe you me, having the right luggage can make a world of a difference.
Now, don't you worry one bit because I've got your luggage needs all sorted!
Introducing, 'Smart Luggage' by Heys – the smart way to travel!
I know what you're thinking, "Smart luggage? Is that seriously a thing?" YES! It most certainly is and it's incredible! Smart luggage by Heys has three key features, integrated oh so flawlessly within its design and the Heys Smart Luggage app(lication) that will help you use those key features to the fullest! You can easily download and interact the Heys Smart Luggage app via your Apple or Android device.
P.S. The app is available in eight different languages (English, French, German, Arabic, Korean, Spanish, Chinese and Hebrew).
Feature #1: Smart Handle with an Integrated Scale
Smart luggage by Heys has an ergonomic design with a built-in digital scale (weight sensor), which tells you precisely how much your bag weighs. In this way, you are easily able to avoid over packing or having to pay excess baggage fees, and the best part of it all is that you are able to check the weight of your luggage via the app simply by lifting the handle.
Feature #2: Proximity Alarm
Built-in proximity sensors allow for alerts to be sent to your smartphone if you are a certain set distance away from your luggage. In essence, this feature reduces the chances of losing your luggage along with the ability to track its location if you do lose it.
Feature #3: Bluetooth Smart TSA Lock
The Heys Smart Luggage app allows you to remotely lock as well unlock your luggage, which is both, convenient and a great security feature. The luggage has a LED light, red indicating the luggage as locked and blue indicating the luggage as unlocked;
Overpacking has always been a major concern during my travels. I tend to lean towards a mind frame where I feel the need to pack more than half my closet. The built-in digital scale surely solves that problem however, Heys Smart Luggage is available in three different sizes and this allows me to choose the right luggage size for every trip.
21 in (53 cm) – 2.8 kgs (6.2 lbs)
26 in (66 cm) – 3.6 kgs (8.0 lbs)
30 in (76 cm) – 4.4 kgs (9.7 lbs)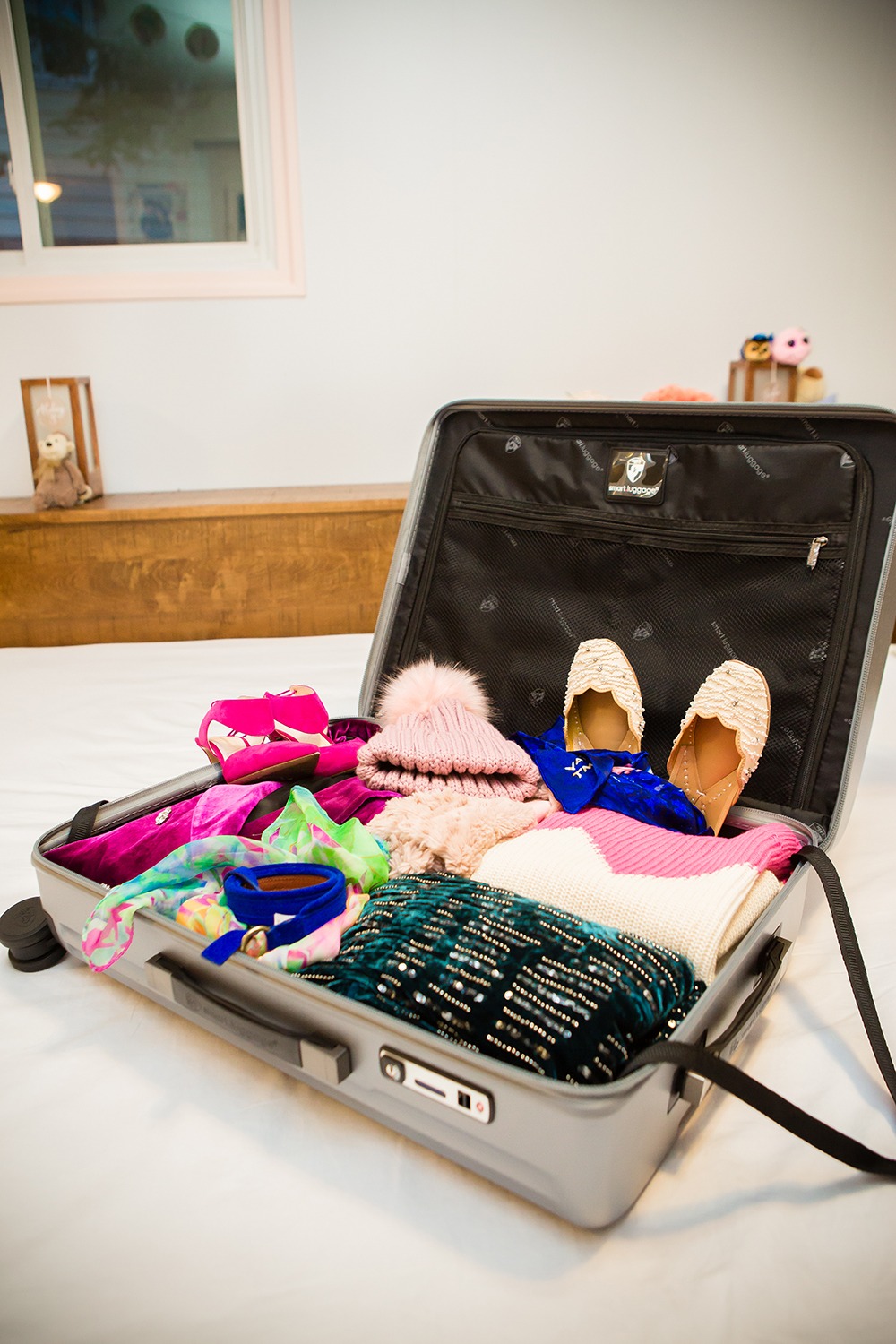 And now, for the most important piece of information - Heys Smart Luggage is powered by AAA batteries (does not use Lithium-ion batteries) and is approved for check-in! So my beautiful friends, if you are looking to set off your journey in the best way possible, look no further than Heys Smart Luggage because they have worked every detail out and have you fully sorted!
Happy travels!
Xoxo,
The Real Juhi Sharma
All opinions are my own.