Truth be told, I have a pre-travel habit that involves a ton of caffeine! No…. I don't drink an insane amount of coffee days leading up to my travel, however I have this habit of making an abnormally long list of all the café hot spots in the city/town I'm about to visit. My abnormally long list is nowhere near realistic, but I can't help myself from creating one that consists of at least 30 hotspots. Yes, I can reason out why I need 30 café hot spots; some places open late, others close early, some have specialty Rose flavoured lattes and other have decadent slices of chocolate cake! Deep down, I know I won't be able to pay all those cafés a visit, but it's nice to have a list to choose from.
I recently traveled to Montreal, a gorgeous city in the province of Quebec, Canada - and let me tell you, "gorgeous" is an understatement. This city is filled with alarming architecture, captivating cathedrals, quaint cafes, flamboyant fashion boutiques, palatable Poutine and the best bagels in the WORLD. I was only there for a short 48 hours, but in that time I discovered not probably, but surely the best café the city treasures – Tommy! Yes ladies and gents, Tommy's café is the place to be if you're planning a vacay to Montreal.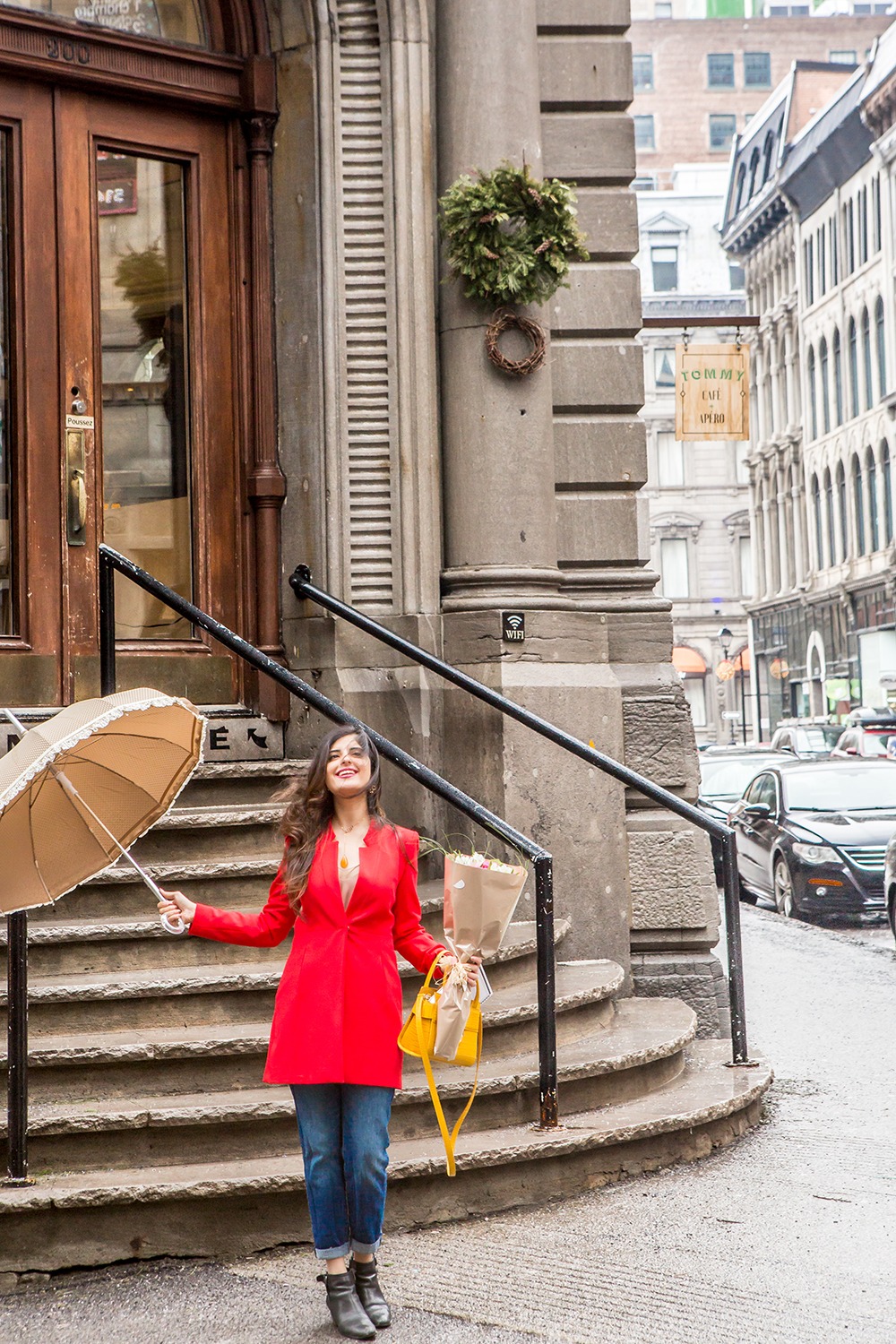 Climb up a few cemented steps, pull open the majestic wooden double doors, and find yourself inside the cutest café. The air is filled with the sweet smell of baked goods mixed in with roasted coffee beans, from the ceiling hangs the leafiest live plant almost as if you were sitting in a garden and most importantly, the large pane windows that allow the warm rays of sun to seep right through. And as if the décor isn't grand enough, the cherry on top are the delicious Chai Lattes served at Tommy's. Served in the cutest PINK heart shaped mug, is the most peerless and precise tasting Chai Latte. It's the perfect blend of aromatic spices that create a Chai flavour, infused into steamed whole milk and topped with dried Rose petals. Not only is this a delicious treat for the belly but, is also esthetically appealing!
P.S. Tommy's is just 190 meters from the breathtaking Basilique Notre-Dame de Montreal! So be sure to hop in for a latte or two after taking in the sights!