"One must always pamper thy self "– The Real Juhi Sharma
Are you looking for that luminous glow this Holiday season? That glow that lights up the entire room when you strut into a room (Okay, this may be a bit of a stretch, but still)! That glow that makes heads turn and jaws drop! That glow that makes you think, "DAMN! I look good"! That glow that makes the crowd wonder, "What's the secret behind her radiating skin"! That glow that makes the light bounce off your glowy cheeks! That glow that makes your skin look alive, fresh and hydrated! That glow that sets #glowgoals for everyone! I know just the place – Hand & Stone Massage & Facial Spa!
So, for those of you who know me a tad bit, you'd know that I'm fairly low maintenance. As much as I love drooling over all the makeup at Sephora and Nordstrom and Holts and Shoppers and other places, I don't actually own much. Honestly, makeup isn't even a part of my daily routine. There is no denying my uncanny love for lipsticks however, the only two products I truly use on a daily basis are my Face Crème and my Chapstick. Yes, that's literally it. That being said, I still do use makeup a couple of times a week; maybe a bit of foundation here and a touch of blush there. The only time you'll ever find me all decked out, will be during the Holidays. With all the Holiday parties and the after parties of the parties, a lot of make up goes on and comes of my skin – a process that can truly be tiring for the skin. And it is during this time, that I find my skin needs more care than ever. Not only is the use of makeup increasing at large, but it's also the cold and dry air that adds to the equation of tired looking skin.
Let's face it. Our skin is not an expense, it is an investment; because glowing skin is always in! Facials are workouts for our skin. Without these workouts, our skin begins to look dehydrated, frail, tired – just plain DEAD. Facials are crucial because they help tone and relax your muscles, stimulate blood flow, cleanses out the impurities, which further helps product absorption (i.e. face serums or face crèmes), reduces puffiness, congestion, fine lines and our worst enemy – WRINKLES! And for the greatest benefit of facials, it gives your skin a more youthful appearance; who wouldn't want that!?
Tbt, the last time I had a facial was approximately 10 years ago (except the one I had today). I know, I know, after my entire rant you'd think that I am some skin care guru, who is entirely on top of her skin care routine, but I'm not. Although, after today's incredible experience at Hand & Stone Massage & Facial Spa, what I can say without a shred of doubt is that, I will no longer be depriving my skin of all the care it truly deserves! Earlier today, I experienced a 'Classic Facial' at Hand & Stone Massage & Facial Spa and I've got one work to describe my entire experience – INCROYABLÉ! They opened a brand NEW location at Dan Leckie (near Lakeshore), so for those of you who live in that neighbourhood or near it, be sure to book yourself an appointment!
*Note* A complete facial using Dermalogica products for Dry to Normal Skin
**Note** All Dermalogica products are 100% cruelty-free, vegan, paraben-free, gluten-free and free of artificial fragrances and/ or colours.
Step #1: Pre-cleanse Balm
The facial regimen began using a Pre-cleanse Balm by Dermalogica, which is an oil-cleanser that melts away any impurities and makeup from our skin. This balm-to-oil cleanser is activated using water and steadily deconstructs and sebum (oil), environmental pollutants, make-up, and residues from other products that tend to build up on our skin. Using this Pre-cleanse balm results in smoothing, calming and nourishing your skin.
Step #2: Essential Cleansing Solution
The Essential Cleansing Solution is of a creamy consistency, best for dry skin. This cleanser gently lifts any impurities while maintaining moisturized skin. The Safflower Oil within allows our skin to soften, while other ingredients such as Rosemary and Lemon extracts help refresh tired skin. This cleansing solution rinses off easily, leaving the skin looking soft and supple.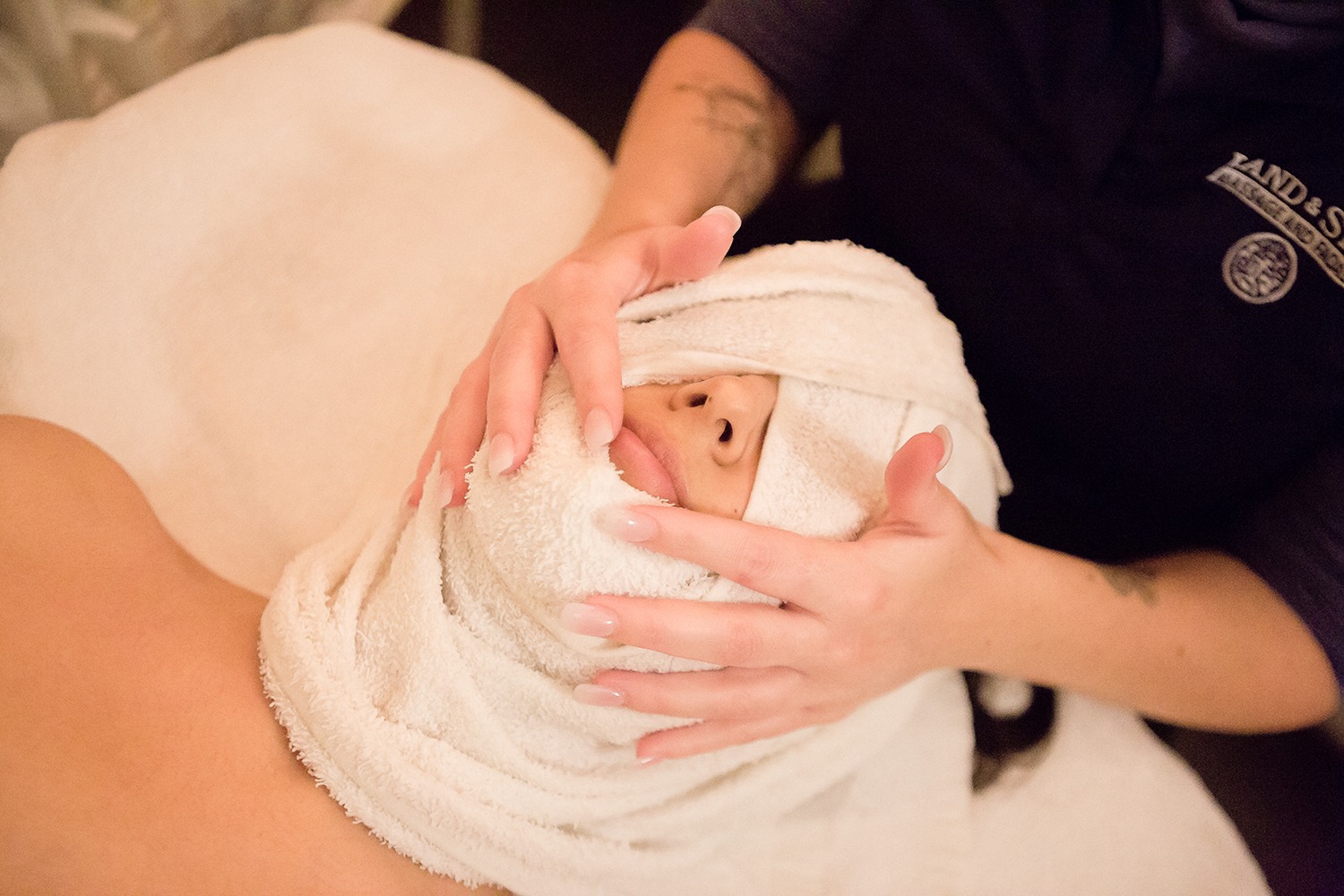 Step #3: Multi-vitamin Thermafoliant
This exfoliant is a heat-activated scrub that infuses our skin with age-fighting ingredients. This unique Thermal Technology is simply activated using water. The microgranules within this exfoliant polish off any dull or dead skin, revealing smoother, fresher looking skin almost immediately. The Prickly Pear Extract in this exfoliant accelerates our skin's natural exfoliation process.
Step #4: Multi-vitamin Power Recovery Masque
Is your skin stressed? The Multi-vitamin Power Recovery Masque is at your rescue! This masque is high in vitamins A, C, and E, all of which restore damaged skin and protect our skin from free radicals. This masque is also rich in Algae Extract, which helps both, in softening as well as moisturizing our skin. In addition, Burdock, Comfrey and Licorice extracts help sooth our skin while increasing bounciness.
Step #5: Multi-active Toner
Tbt, when I first started using toners, I didn't think they did much for my skin. Over, time my opinion changed. Not only does this Multi-active Toner hydrate and refresh the skin, it also preps the skin to properly absorb all the products applied thereon.
Step #6: Multi-vitamin Power Firm
This cream is specifically designed to nourish the delicate area around the eyes and lips. It consists of multiple unique botanical extracts that help smoothen and firm the skin, and significantly minimizes fine lines. To top it off, it makes for a great eye primer prior to the application of any concealer.
Step #7: Biolumin Brightening Vitamin C Serum
Vitamin C is has innumerable health benefits and is a treat for our skin! The Biolumin Brightening Vitamin C Serum is insanely high in Vitamin C, which is a natural anti-oxidant, promotes collagen formation, adds radiance, and makes our skin brighter and firmer. This face serum also consists of Lactic Acid, which promotes a higher rate of cell turnover, Japonica Flower Extract, which helps calm our skin and Chia Seed Oil, which quenches the thirst of dehydrated skin.
Step #8: Skin Smoothing Cream
Unlike other moisturizers, the Active HydraMesh Technology of this cream allows the skin to stay fully hydrated for up to 48 hours! The advanced technology helps protect the skin from any form of environmental stress and helps seal in the hydration in a way that allows it to last longer than the average moisturizer. The Skin Smoothing Cream also consists of Vitamin C, which as I mentioned earlier, is highly beneficial for maintaining healthy looking skin.
Step #9: Skin Defense Booster SPF-50
The Skin Defense Booster is ones of the greatest products launched by Dermalogica, as it is customizable to the degree of defense you require. This product can be mixed into the Skin Smoothing Cream or into a face cream of your choice and must be applied evenly. It may also be mixed into your foundation, if you so choose. Ideally, the Skin Defense Booster should be applied at least 30 minutes prior to sun exposure. Lastly, this Defense Booster is made for all skin types!
After an afternoon of being pampered at the new Hand & Stone Massage & Facial Spa, with such an incredible line of products that made my skin feel soft and supple, I arrived to the conclusion that, I will surely go back! I had an amazing experience and most definitely recommend you to visit a Hand & Stone Massage & Facial Spa in your vicinity and freshen your skin for all the Holidays!
P.S. If you're in need of a great stocking stuffer or a gift in general, you can surely load up a Gift Card from Hand & Stone Massage & Facial Spa – who wouldn't love the gift of being pampered!?
Hand & Stone Massage and Facial Spa sponsored my facial. All opinions are my own.