For a while now, travel has become more so about the gram and the glam. Instagrammer (professionally speaking) or not, almost everyone poses for the gram. My travels and I are definitely guilty of being a part of this trend as well. However, for me, it's how I make a living. So my beautiful peeps, this blog post is a round up of The Most Instagrammable Places In Dubai. If however, you aren't into Instagram, this blog post can also be used as an excellent list for The Must Visit Places in Dubai. Not only are these places supremely photogenic, but are sights you don't want to miss out on!
In addition, I've taken the liberty of providing you with the exact location where all my photos were taken and tips on what you can wear if you're planning on taking photos (for the gram or otherwise). These tips are intended to help make your fashion decisions swift and effortless, but you are in no way bound to use them. Keep scrolling for all the dets!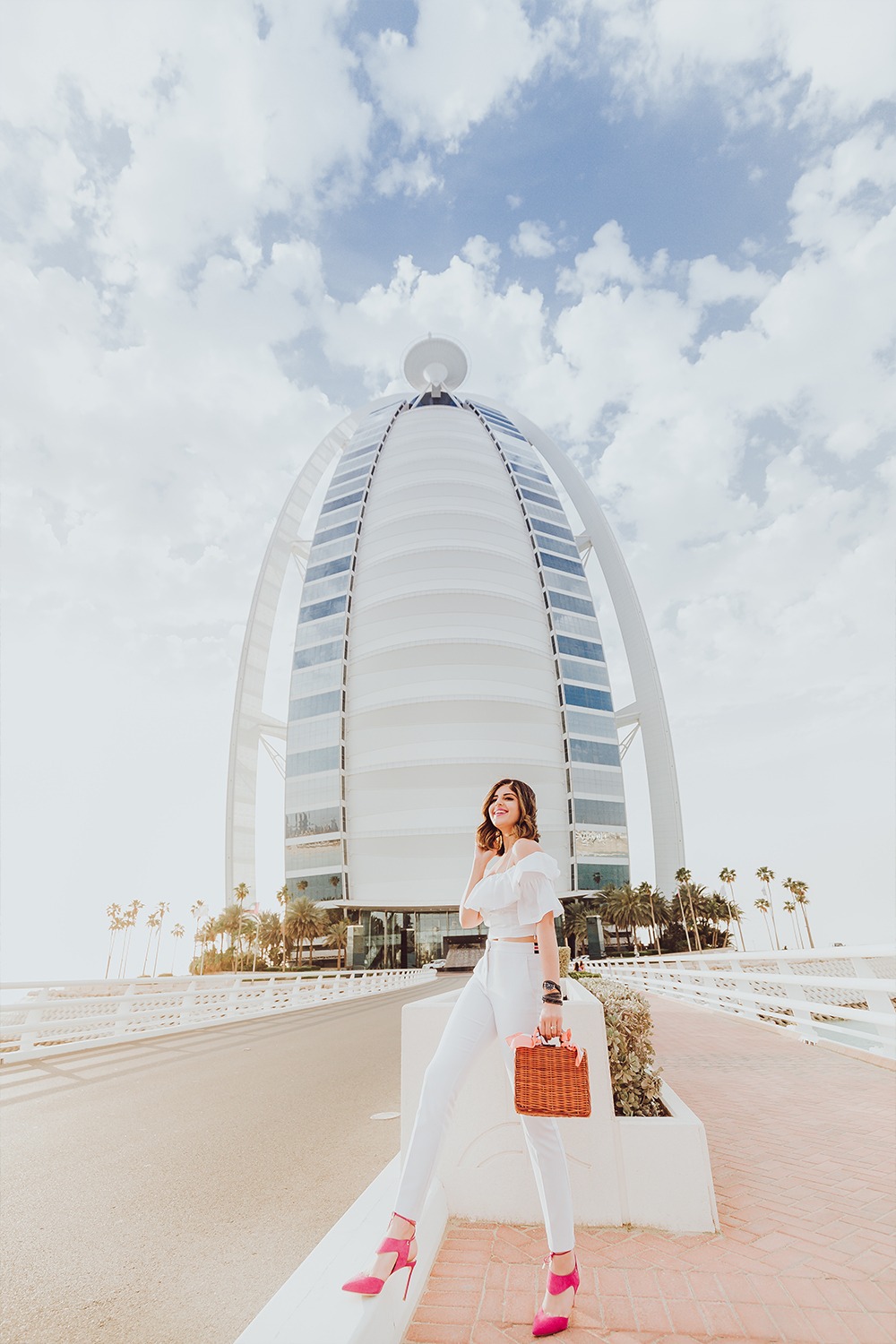 Burj Al Arab
Luxuria. If you're not sure what this Latin term means, don't worry about finding it in the dictionary or searching for it on Google. All you have to do is this – grab your laptop or any device connected to the Internet, book yourself a flight to Dubai and pay a visit to the Burj Al Arab. What you witness and experience there will very beautifully and precisely define the term luxuria.
If that isn't something you can do, the literal translation of this Latin term is luxury. The Burj Al Arab is luxury at it's BEST! Every inch, corner and every nook and cranny of this hotel oozed luxury. My visit to this MEGA luxurious hotel was like none other! It was definitely one of a kind!
Fashion Tip: You could definitely sport an ALL-white outfit like I did; there is something stark about capturing this white monument whilst wearing all white! If however, you're feeling more colourful, wearing a solid + bold colour like Red, Blue, Emerald Green or even hot Pink, would work like magic. Because you'll be working off a white background, you could even wear prints. You could make almost ANY outfit work.
Location: Burj Al Arab Jumeirah - Jumeirah St - Dubai - United Arab Emirates
JBR
BEACH please! Please go to the beach. The JBR beach offers a beautiful view to wind down, relax and watch the sun go down. The water is fairly clean so you could definitely dive in for a swim or just soak your feet if you like. You could also walk along the shore or go on a run or do some yoga if you're feeling fitness inclined. Akshay and I took our leftover pizza from the night before and had a picnic!
Fashion Tip: The JBR beach offers a pretty friendly backdrop, similar to the Burj Al Arab. Therefore, you could sport almost any colour or pattern and create a fabulous image! Being at the beach gives me summer/ boho vibes, so you could wear a short floral dress or pair a white flowy blouse with denim shorts. If you're feeling more elegant, you could definitely wear a maxi dress!
Miracle Garden
Fancy florals? This is the place to be! I've been to my fair share of gardens, but the Miracle Garden is a whole world within itself. Visiting the Miracle Garden was a reminder of how creative and talented people truly are. This garden is the epitome of floral arrangements! Envision it and it's there; from a life size Emirates aircraft covered in flowers to Disney characters created from flowers, it's all there! Be sure to visit the Miracle Garden and allow yourself to be amazed by it's beauty!
Fashion Tip: The Miracle Garden is a major splatter of colour! I'd definitely gear away from wearing prints that are too busy (paisley, for instance) as it'd be harder to stand out amoungst all the florals. Wearing a solid colour or a simpler print like I have would be ideal.
Location: Dubai Miracle Garden, Al Barsha South 3 - Dubai - United Arab Emirates
Al Habab Desert
You've seen that scene from Sex & The City 2 (movie), where Carrie and her gals are walking up the Arabian desert looking Arabian princesses? Well, if you haven't then you definitely have to and if you have then you'll surely understand the reference I'm about to make.
A trip to Dubai or any place in the Middle East for that matter would be incomplete without an excursion to the Desert. Akshay and I booked an excursion to the Al Habab Desert to experience an incredible half hour of sand bashing in the red sands, followed by a Camel ride and an authentic Arabic dinner (there were so many VEGETARIAN options) while watching the sun go down! If that hasn't gotten you sold already, then this will; the red sands make natural patterns that constantly change as the wind blows. It is nature, creating art and is an experience you don't want to miss out on.
Fashion Tip: Needless to say but it's the dessert and boy does it get hot! Skinny jeans or anything that hugs too tightly to your body will drive you crazy. Shorts, skorts, maxi dresses or a cute little boho dress would work beautifully. If I were to head out to the dessert again, I'd wear a white or a light coloured boho dress paired with a nice headband.
Burj Khalifa
It would be extremely hard to visit Dubai and not see the Burj Khalifa considering it's unbelievable presence! Not only do you want to see this architectural marvel from the outside, you also want to ride up the elevator to the 125th floor to get a 360 view of Dubai. I believe you can go up higher to the 140th something floor where things get a lot smaller, but for an additional fee of course. They also offer a virtual reality experience where you can see yourself do a free fall from the 125th floor! Trust me when I say this, it is VERY real and I almost peed my pants!
Fashion Tip: You could definitely take photos when you're at the top, but the Burj Khalifa itself makes for a better backdrop. If you're aiming for a nice colour pop in your photo, lean towards bold colours like Red, Royal Blue, Fuchsia, etc. If however you're leaning towards a softer colour scheme, wearing shades of white or pastels would be ideal. In terms of the actual article of clothing, you could wear almost anything.
Iranian Mosque
Ever since Akshay and I visited Istanbul, I've been extremely fascinated by the architecture and intricacies of mosques. This mosque is a tad bit away from central Dubai and doesn't have very many public places around it; it's in the mist of a home neighbourhood. The reason I'm pointing this out is because Akshay and I visited this mosque before we'd had breakfast and by the end of our visit we were STARVING! So, either eat well or carry a little snack in your purse in case you need it.
The doorway and the ceiling right above the doorway has every shade of blue you could possibly imagine. I'm guessing that the intricate designs in this ceiling took months if not weeks to paint. You definitely want to see this ceiling; it's somewhat of a smaller version of the famous church in St. Petersburg, Russia.
Fashion Tip: Considering this is a religious place for some, I'd wear something more conservative out of respect. A long maxi, full-length pants/ jeans with a fairly conservative top would be ideal for both, men and women.
Rocks across the Palm Atlantis
This isn't an actual name of a tourist spot in Dubai. If you drive by the Palm Atlantis or are staying at the Palm Atlantis, the road right across the hotel is partly where Dubai ends. The road is minimally fenced; you can easily cross over (it's not allowed, but I'm guilty of having done it) to the wide rock area. Once the rocks end, all your eyes see is endless water.
Fashion Tip: Everything here appears grey/ blue for the most part, so if it'd be nice to wear a contrasting colour like I have in order to stand out. Also, pants wouldn't be my first choice because I feel it takes away from achieving a 'beachy vibe'. The one thing I do recommend if you decide to take photos here is to wear footwear that offers a strong grip. I was wearing slides (some what of a flip flop) and they certainly didn't offer a secure grip. Having a strong grip would significantly reduce the chances of slipping and injuring yourself.
Sheikh Zayed Grand Mosque
I think it's safe to say that I've seen my fair share of mosques after my trip to Istanbul, Turkey. However, the Sheikh Zayed Grand Mosque was definitely one that blew me away! This religious monument is definitely the EPITOME of the word GRAND, as the name suggests. If you're in Dubai, you must take a quick 2-hour bus/ car ride down to Abu Dhabi, as that is where the mosque is located. I promise you, the trip to and from will be more than worth it! This architectural extravaganza is mostly built using marble! From the strengthening pillars to the elaborate tile work, it is all done in marble!
Fashion Tip: A visit to the Sheikh Zayed Grand Mosque is one where you needn't worry about your ensemble. The mosque offers every visitor a robe that covers you head to toe. If you choose not to wear a borrowed robe, you must comply with the dress code set by the mosque.
Men: Shorts are not permitted. Full length pants with a full sleeved shirt/ t-shirt.
Women: Full length pants/ skirts with a full-length shirt/ t-shirt. The collar on your top must be high (cover your chest area well). In addition, women must cover their head with a scarf or cover-up of some sort. Hats are not accepted to cover your head.
*Note* Double check the mosque's webpage or call for any changes in their dress code policy.
Location: Sheikh Rashid Bin Saeed St - Abu Dhabi - United Arab Emirates