When it comes to travel, I tend to lean towards destinations that are as old as they come, have a great deal of history to soak in and countless stories to be inspired by. I'm a sucker for architecture, art, culture, and pretty much everything that has a hint of old and/ or tradition. There is something about the old factor that I'm majorly drawn to and without of shred of doubt, will continue to be drawn to (this probably has something to do with the fact that I have the soul of a grandma).
I also tend to focus on getting in all the sights in (popular ones and ones that are less visited), enjoying every moment possible, familiarizing my palette with new and local flavours (even if it involves cheating on my GF diet), absorbing all my experiences as much as possible and of course taking one too many photos! The one thing that is the least of my concerns is shopping. Other than purchasing myself a customary magnet from every place I visit (for my fridge magnet collection), and maybe picking up a trinket or two, shopping is hardly ever a part of my itinerary.
Earlier this year, I had the opportunity to explore Dubai and before I get into all the gritty details of my experiences there, let me just say this – Never have I ever, been to a place that runs in two parallel realms at once; one that is largely forward and modern and another that is extremely traditional.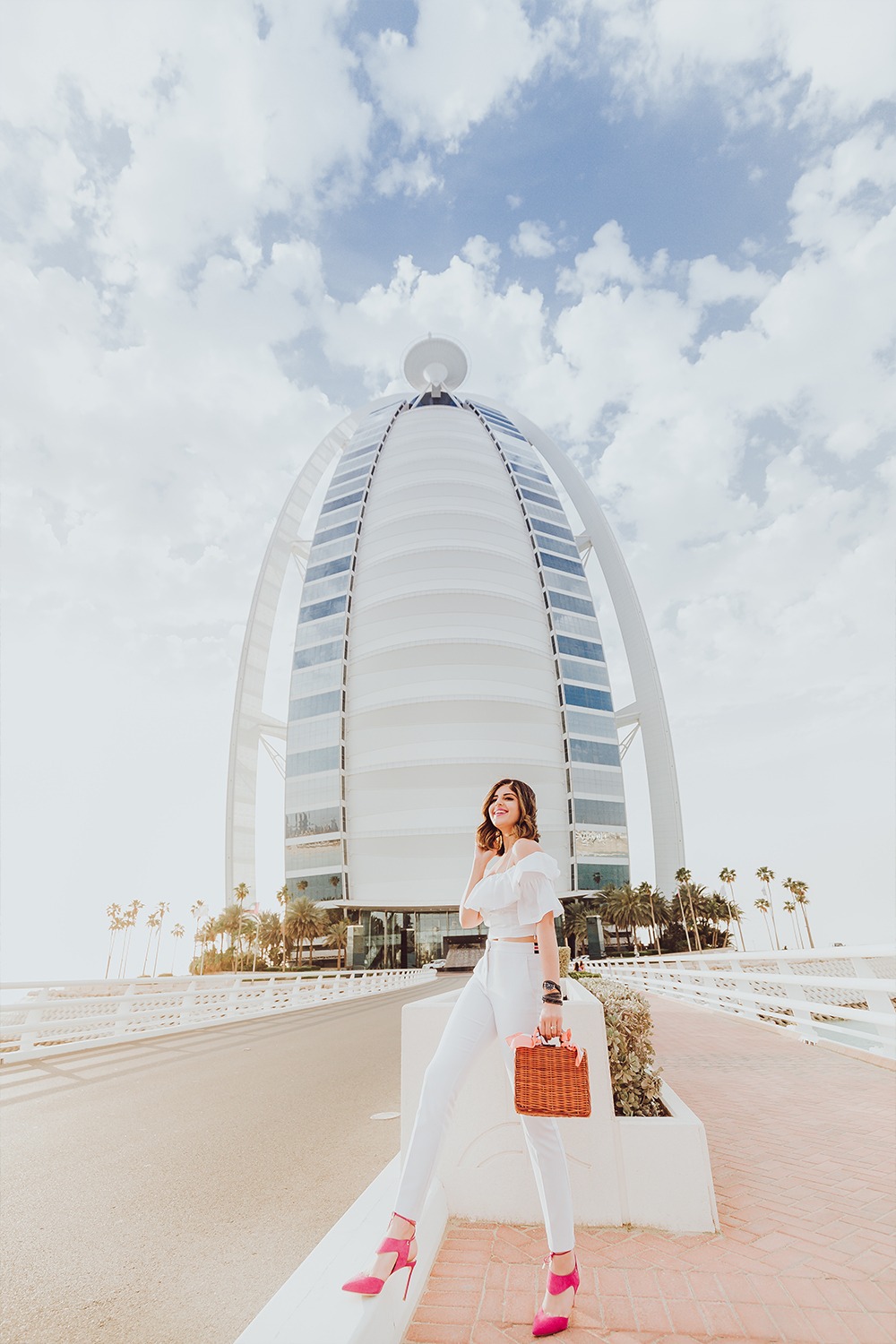 Fashion
The city as a whole, from its architecture, food, down to its technology, Dubai upheld an extremely modern front. However, Dubai's culture, public behaviour, and some aspects of tourism, were more on the traditional side. The one thing that felt like a great blend of being modern and traditional was Dubai's fashion. Out of all the metropolitan destinations I've traveled to thus far, Dubai is definitely the one place that has it ALL! From luxury brands like Chanel, Gucci, Louis Vuitton, YSL, etc. to fast fashion brands like Zara, H&M, Topshop, etc., Dubai encompassed it all! What blew my mind even more were the incredibly fashionable women living there. The women in Dubai have managed to beautifully embrace their culture and traditional ensemble, whilst bedazzling it up with modern accessories. Let me tell you this - during my time in Dubai, almost every woman I spotted was hiding a fabulous pair of Manolo Blahniks, Jimmy Choos, Guccis, or some other fabulous shoe designer under their traditional dress. These fabulously fashionable women also accessorized with some of the most beautiful handbags, jewelry, and make up available. I guess I can safely conclude that women in Dubai just have an incredible sense of fashion!
Architecture
Similar to Dubai's fashion, the city has been planned, developed and is continually being developed to uphold a very modern image. The brilliant minds behind the architecture in Dubai have created some of the most magnificent buildings. Not only are the architectural designs a modern marvel, so is all the equipment and machinery used to build their structures. Honestly, if you ask me, the people behind Dubai's development and the individuals involved in executing that planning deserve a great deal of credit; and I say this because, not only have they done an incredible job, but because they've managed to do it with quality. Dubai to me, gives off a very futuristic vibe!
Food
Food - probably the one thing apart from fashion, that also provided a good mix of tradition and modernity. Grab a piece of paper and a pen, and make a list of every possible popular food chain (fast food as well as a full sit down style) you can think of – Dubai had it. On top, Dubai also has its very own local cafes and restaurants, which by the way serve up some of the most delicious plates of food! From local and traditional Middle Eastern food to international cuisines from around the globe, it was all easily available.
While we're on the subject of food, I'd like to especially mention a particular Indian restaurant – Peppermill. Yes, I know. I know you're probably thinking this Canadian girl with an Indian background will obviously give an Indian restaurant a shout out. That isn't true. If there is one thing I am abnoxiously snobbish about, it's Indian food. I've spent most of my life eating Indian food; most cooked by my mom and I, some cooked by my grandma, some cooked by friends and family and a fair amount cooked at Indian restaurants in Canada, India, and the places I've been privileged to discover. That has resulted in me setting a very high standard for what classifies as GOOD Indian food. My snobbish high standards aren't too easy to please, but the plates of food served at Peppermill made my palette experience flavours I'd never experienced before. Apart from the flavour being on point, so was the presentation – very clean and appealing to the eye. One last thing I'd like to mention is the drink (a mocktail because I wasn't going to get drunk at noon) I ordered at Peppermill. I'm sorry I can't remember the name, but it was some sort of a Virgin Mojito and my lord, it was out of this world! Moral of my food ramble – when in Dubai, definitely stop by this restaurant and treat yourself to some of the most scrumptious Indian food you'll ever have!
Culture
The last thing I want to share with you about Dubai is its culture. I want you to know that everything I say here is simply with the intent of sharing my experience with you. It is in no shape or form, a way to bad mouth Dubai's culture.
One amazing thing about travel is that it allows you to learn and eventually master the art of flexibility. Travel allows and sometimes forces you to mold yourself and traveling in Dubai definitely offered many opportunities for that. Life in Canada is generally free. You can walk on the street or in a mall, eat in a restaurant or in a park, or be in any public place and be 100% free. You can dress (for the most part) the way you want and behave the way you want (for the most part) without having to worry about breaking any law or being offensive. Things in Dubai are on the other end of the spectrum when it comes to the way you dress or the way you behave. Sure you can wear shorts and skirts and bathing suits, but in the right places. For instance, if you were to visit The Gold Souk in Old Dubai, I recommend wearing a more covering outfit. However, if you were at your hotel, The Dubai Mall or at a restaurant you could definitely wear a short dress. You may still get a few stares but that's only because its not well received by the more traditional locals in Dubai (which I think is fair). PDA (Public Display of Affection) is a HUGE no no! You can go to JAIL for it and people have! It's offensive and definitely not well received. This was definitely a hard one for me because hugging Akshay or giving him a peck on his check/ lips is a very natural thing for me. It was hard to consciously avoid doing any of those things, but I eventually got the hang of it.
For the most part, my time in Dubai was great and I do recommend visiting Dubai and experiencing all that it offers. I hope this blog post has given you a better insight of Dubai and for the things I missed out on, book those tickets and experience it for yourself!
xoxo,
The Real Juhi Sharma