1. Les Senteurs
'Les Senteurs', French for 'The Scents' is a tranquil perfumery in the beautiful neighbourhood of Belgravia, London. It's quint and perfectly tucked away from the endless hustle and bustle. Les Senteurs is all about the experience, an experience where your senses help you write a story. This glorious perfumery is dedicated to discovering and offering scents from around the globe that are untouched and yet to be discovered by many. Every scent is an adventure in itself and every smell has a unique history to tell. There are over 350 scents to explore and its almost impossible to walk out without finding "the one" for you. Not only are the scents at Les Senteurs breathtaking, the outside is equally ravishing. It would be nearly impossible for an unaware passerby to miss this beautiful destination. The entryway to this perfumery is adorned with seasonal decor that never fails to catch the eye. If you're not looking to add to your perfume collection, it's still worth a visit for the 'gram'!
2. Peggy Porschen
London, in my understanding is a city that, not only believes in extravagant interior and exterior decoration, but is also a city that certainly knows how to do it right! There are multiple streets in London that have boutiques, cafes, restaurants, and shops with beautifully adorned window displays and every ways. It almost seems to be a part of the culture in London to make everything as grand as possible - and why not, after all it is the land of the Royals! Out of the million cafes to discover in London, Peggy Porschen is one that definitely can't be missed. The building where this cafe lives is PINK - need I say more? But, if that isn't reason enough for you to stop by, you'll surely want to for the 'gram'. This cafe has the dreamiest pastel and floral entryway to the land of cupcakes and warm lattes to fill your heart with joy! They've got everything from cupcakes to cookies to coffee - something to suit every palette.
P.S. Their hand piped royal icing cookies are so gorgeous, you'll have a hard time eating them, but be sure to because they are super delicious!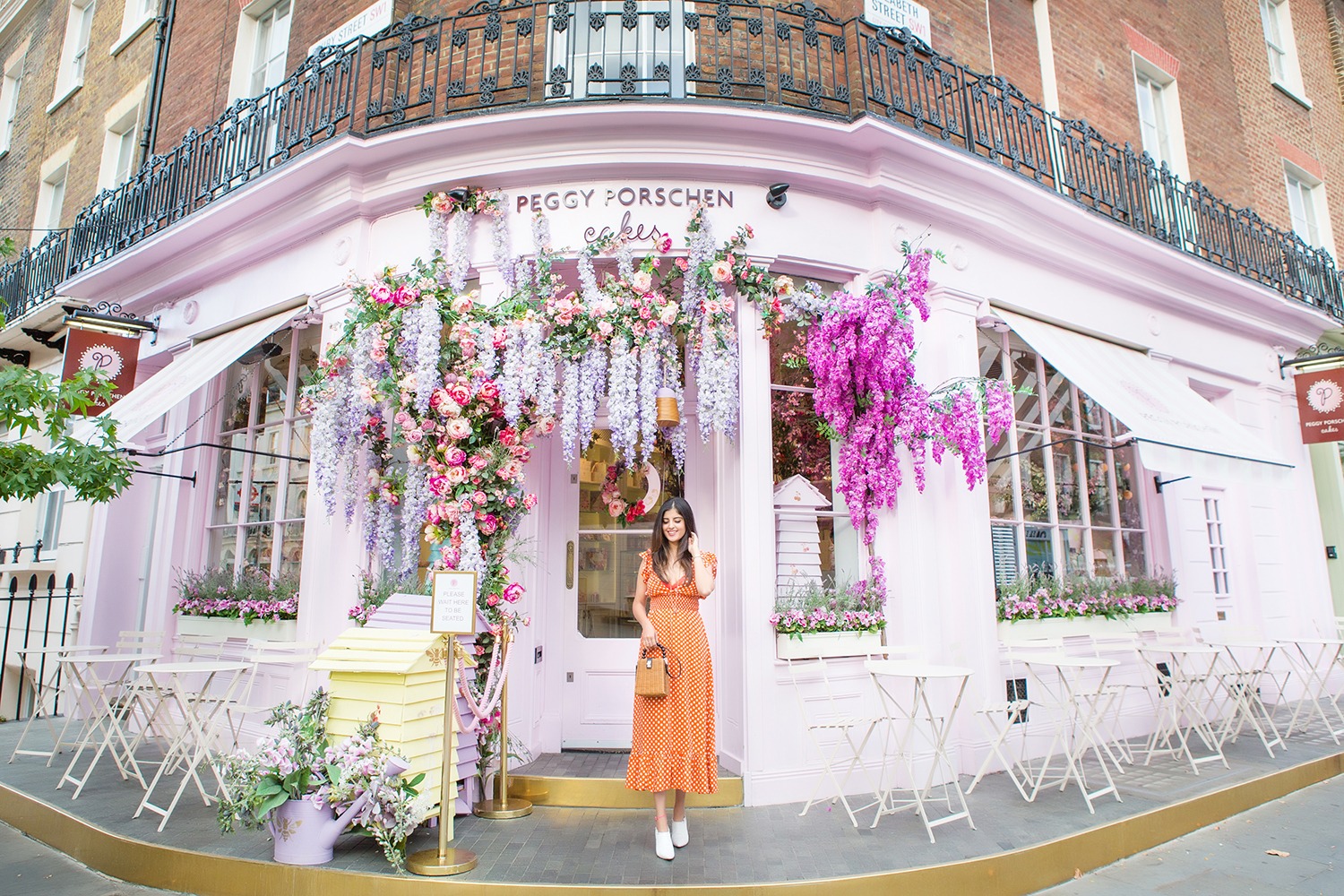 3. London Eye
This pretty much speaks for itself. If there were one monument to define this incredible city, it would most definitely be the London Eye. I mean seriously, it's got the word London in it, how could that possibly be wrong? Tbh, in all my trips to London, I somehow wasn't able to find the time to ride the London Eye. During my first trip to London, my husband and I walked all the way from our hotel to the ticket purchasing counter, and when we saw the massive line up to buy the tickets followed by another massive line up to get on the London Eye, we decided to turn around and leave it for our next visit. Funnily, the following two trips we took to London were so packed with other activities that there just was no time for it. However, I did walk on the streets around the London Eye and took so many photos until I was fully satisfied. If you're traveling to London, you've got to take a photo with the London eye in the background for your 'gram'.
4. St. Pancras Renaissance Hotel
I don't even know where to begin. Words couldn't possibly suffice to justify the beauty this historic landmark holds – it's has a magical, fairy-tale like façade. The soaring high ceilings, gigantic windows, Victorian style wallpaper, elegant carpets and the 'Iconic Staircase' that every visitor takes a photo at for the 'gram'. For a bit of backstory - In 1865, the Midland Railway Company decided to hire George Gilbert Scott to design a hotel to be constructed next door to St. Pancras Station. Years later, the St. Pancras had it's grand opening in the year of 2011, occupying much of what was known as the Midland Grand Hotel.
P.S. If you're someone who loves history, architecture and wants to feel like a princess, you must definitely explore the St. Pancras Renaissance Hotel.
5. The Landmark London
Let's face it; a trip to London is entirely incomplete without having a cup of English Breakfast. So, one rather chilly afternoon, my husband and I decided to skip the regular lunch and treat ourselves to a fancy 'Tea for Two' at the stunning Landmark Hotel in central London. This immensely glorious hotel is the perfect escape from the unpredictable monsoon in London and a great spot to enjoy sweet & savoury treats. I have to say, never have I walked into a hotel with ginormous Palm Trees; it was almost as if walking straight into Florida. The sunshine seeping through the amazingly high skylight ceilings, almost instantly wrapped me an oasis of a warm summer day! Not only does The Landmark London serve a mean 'Tea for Two' but, this beautiful gem is also the perfect spot to snap a tropical inspired photo for the 'gram'. Truly, truly breathtaking.